We're a global Artgroup.
Artists from  Seattle, South Carolina, New York and also from  Serbia as well as Germany communicate, discuss and connect with each other.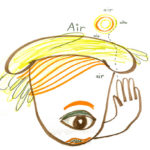 Also we're challenging us to discover different ways beyond our well-known and comfortable routine.
Very good news is the exhibition in January 2023 at the Gallery 110 in Seattle:
Negative Capability: A Show of Portraits – curated by Saundra Fleming.

And check out the magnificent poem Cliffton created for Hole In The Air.